by Judah Shingleton
The UConn women's polo team takes on Skidmore University in a varsity game at the Horsebarn Hill Arena in Storrs, Connecticut on December 2, 2018. Throughout their seasons, the varsity polo teams compete against numerous other intercollegiate programs including Cornell and Yale, according to the UConn Polo Club. UConn's women's and men's polo teams have won a total of ten national championships, according to the UConn Polo Club.
A senior, UConn Polo Club president and team captain Anders Carlton charges across the field.
UConn senior Nicole Kula reaches to hit the ball before her opponent. The game of polo can get very close to its audience in the Horsebarn Hill arena. Sometimes fans find themselves face-to-face with horses.
Anders Carlton swings her polo stick to defend the goal by knocking the ball backwards.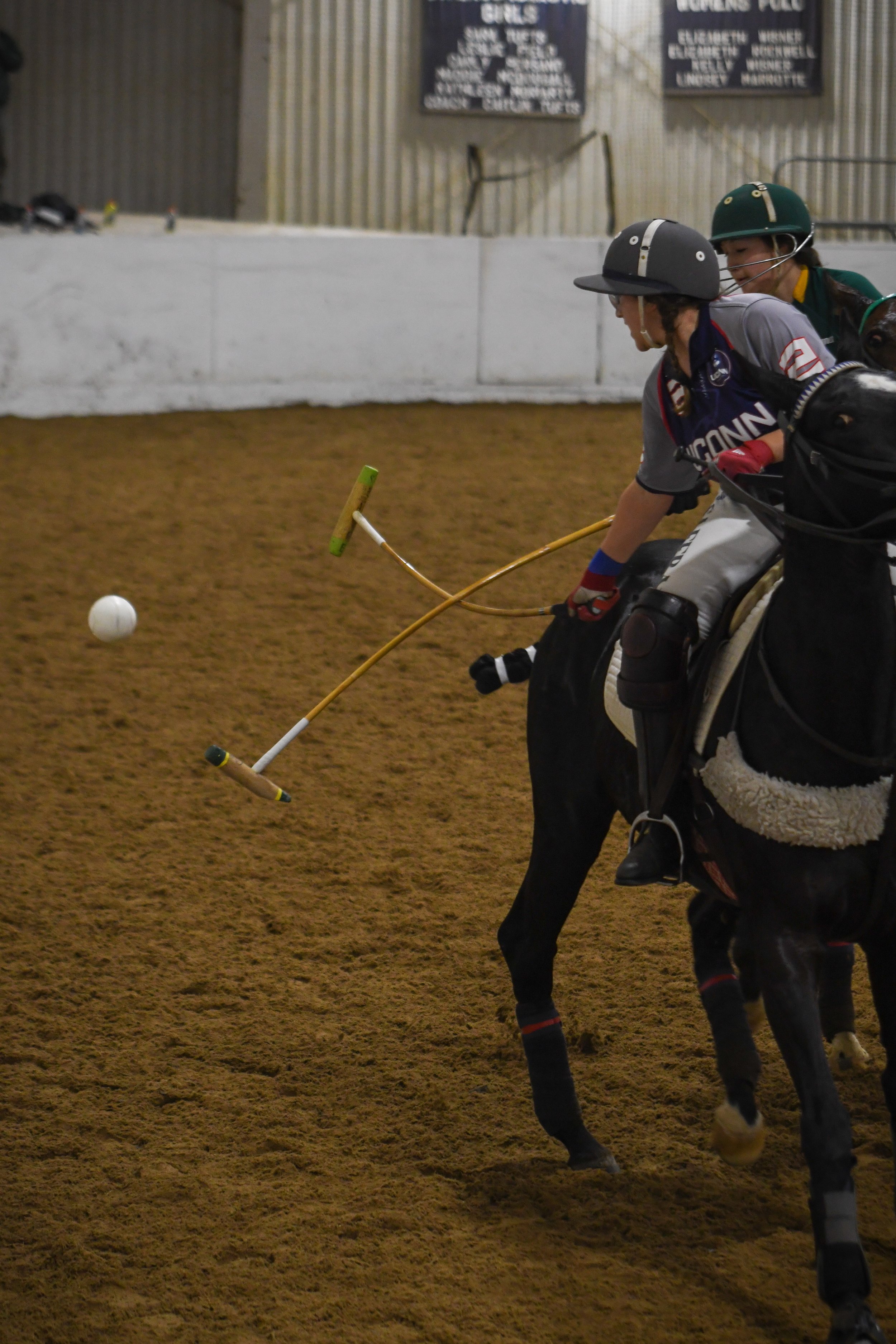 UConn junior Sage Saffran goes hand-to-hand against an opponent to knock the ball away from the goal to where a teammate can reach it.
The bleachers in Horsebarn Hill arena are filled as fans watch the game and take videos from the side of the field.
Anders Carlton grabs her equipment for the next period of the game after a short break. Polo is played in four periods.
The game pauses after Nicole Kula is flung from her horse. Checking to make sure both the player and the horse are uninjured is protocol when a situation of this kind occurs.
Nicole Kula speeds to the ball on her horse. What sets polo apart from other UConn sports is that while there were only three UConn players on the field, there were also three UConn horses sprinting them to where they could reach the ball and score goals. The UConn Animal Science department owns and looks after these horses.
Between periods, horses that have played are taken outside and walked to cool down while other horses are warmed up to potentially take their places.
Sage Saffran attempts to break the 8-8 tie against Skidmore in a penalty shootout. After multiple rounds with no tie-breaker, Skidmore scored and won the game 9-8.
Varsity players Nicole Kula, Sage Saffran, Anders Carlton, and Julia Marrinan meet with their head coach Patrick Marinelli to reflect on their gameplay.